13 Day Signature Tour of India
Booking Dates
11/20/2019 through 12/16/2020
Travel Dates
08/24/2018 through 12/31/2020
Provider
Kensington Tours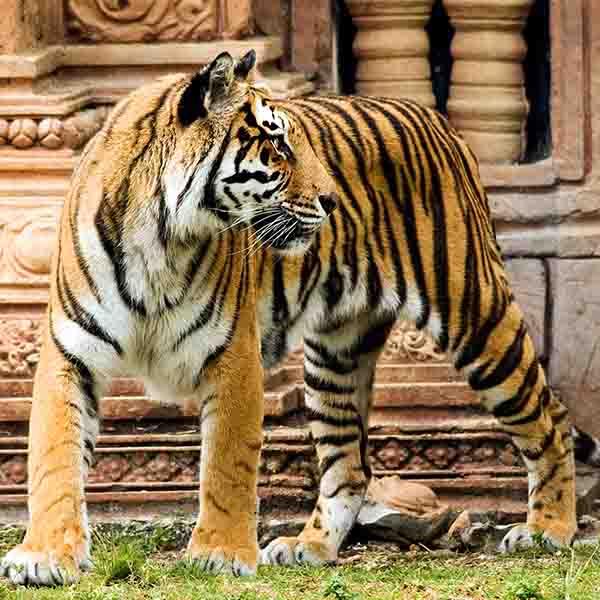 13 Day Signature Tour of India

A trip that checks off some of the key stops on the Indian subcontinent and then some. In addition to visiting the classic triangle cities of Delhi, Agra and Jaipur, you can see wildlife in Ranthambore and visit one of the holiest cities in India: Varanasi.
Like Rome, Delhi is an eternal city, not only the capital of modern India, but the capital of at least seven previous civilizations, each of which has left behind a trail of monuments. Tradition and modernity live easily side by side. The heart of Old Delhi is a 400-year old tangle of lanes with colorful bazaars, including its famous sweetshops and Khari Baoli, Asia's biggest spice market. Two important historical icons, the Red Fort and Jama Masjid, are also close by. Not visiting Old Delhi is, almost, like missing out on Delhi.
Next, you fly to Udaipur, the city of lakes, where the majestic white City Palace offers a spectacular view over Lake Pichola. Enjoy a boat ride with your private guide and at Eklingji, about twelve miles north of Udaipur, stroll around a vast maze of 108 temples and let the collection of crystals at the Fateh Prakash Palace take your breath away.
On to Jaipur, where virtually every building in the historical center is painted a terracotta pink. Your private guide will explain the story behind it. Visit the City Palace, marvel at the fascinating precision of the giant sundial next door at the 'The Observatory' and be in awe of Amber Fort, a breathtaking construction of red sandstone and marble. Take an evening walk with your private guide to sample the region's culinary delights from some of the city's most popular street food vendors and observe local artisans in their workshops. In Ranthambore, join a Tiger Tracking Safari to Rajasthan's first Project Tiger reserve, which is spread over 244 square miles. The park is named after the 1,000-year old fort which stands within the reserve. Tigers sightings – while not guaranteed – are often successful and the park boasts a large range of other wildlife, plus gorgeous views of your surroundings. Even if the closest you get to a tiger sighting is a set of paw prints dotting the dirt road ahead of you, it is well worth the visit.
In Agra, a stunning monument to love, the Taj Mahal is an exquisite example of Mughal architecture, and has captivated the hearts and minds of travelers for centuries. Crafted entirely from white marble, construction of the Taj began the year after the Emperor Shah Jahan's wife, Mumtaz Mahal, died in childbirth in 1631. The memorial was not completed until 1653 and over 20,000 people from India and other parts of Asia were engaged in its construction. Enjoy the beautiful gardens, laid out in the classical Persian design and the elaborately embellished arches and other structures.
Varanasi promises something a little different. It is one of the holiest places in all of India and takes you on a genuine spiritual journey. Although the emphasis is, of course, on Hindu religious sites, you also visit Sarnath, a little bit outside of town, to enjoy a quiet but significant site where the Lord Buddha gave his very first sermon to his first five disciples. To Hindus, the Ganges is a holy river and you need to keep an open mind to appreciate the connection people have with it. Hindus believe that taking a dip in the holy river will wash their sins away, and that to die in Varanasi – and be cremated by the banks of the Ganges – will liberate them from the cycle of death and rebirth. Taking a boat ride, with your private guide, along the holy river at sunrise, exposes a fascinating variety of activities being played out along the river bank: people taking a dip fully-clothed, holy men sitting on a rock in deep meditation while hawkers are plying their trade. It's a riot of color and a quintessential experience.
Kensington Tours creates private trips from the world's finest ingredients. Tailor-made with care by your personal Destination Expert, your personalized trip is always a one-of-a-kind experience made just for you. Expert local guidance and 24/7 service come standard.
Itinerary
Destination
Pricing
Terms and Conditions
| Day | Description | View All |
| --- | --- | --- |
| Day 1 | Delhi | Details |
| Day 2 | Delhi | Details |
| Day 3 | Delhi To Udaipur | Details |
| Day 4 | Udaipur | Details |
| Day 5 | Udaipur To Jaipur | Details |
| Day 6 | Jaipur | Details |
| Day 7 | Jaipur To Ranthambore | Details |
| Day 8 | Ranthambore | Details |
| Day 9 | Ranthambore To Bharatpur To Agra | Details |
| Day 10 | Agra | Details |
| Day 11 | Agra To Varanasi | Details |
| Day 12 | Varanasi | Details |
| Day 13 | Varanasi | Details |